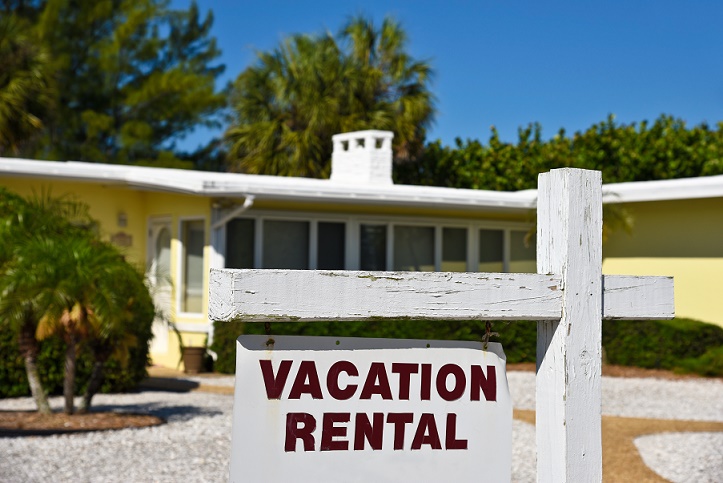 Airbnb and other vacation rental sites are a great way for anyone who wants to see the world to travel on a budget, and for homeowners to generate some cash when they're out of town. These popular sites are a win-win for tourists and hosts alike, but it's worth noting that having paying guests in your home or staying in someone else's place of residence can affect the insurance on the property. If you've thought about listing your home as a rental as a way to earn some extra income, or you're staying at the home of someone who does, here's what you should know about the level of homeowners insurance required on the property.
Injury Coverage
Your homeowners or renters insurance may cover instances of guests being injured on your property as part of your liability coverage. This coverage protects you from lawsuits that may result from someone being injured on the premises. If you are a tenant, then renters' insurance will protect you from liability and property damage, since your landlord's insurance usually only covers the structure of your home, not the contents.
If you're concerned about your level of coverage, check with your agent to ensure liability coverage is in effect on the property.  Policies differ from company to company and exclusions for rental exposures may apply, so it is crucial that you discuss this with your agent before you rent your home.
Property Damage
If property is damaged by a short-term renter such as an Airbnb guest, the value of the property may be reimbursed by your insurance company, as long as it's covered by your homeowners insurance or renters insurance. A renter breaking or stealing property may not be considered a "covered peril" in your policy, so check your level of coverage before becoming a host. Ask your agent about specific instances and be sure to send a confirmation email so you have the answer in writing should a claim arise. In general, the more comprehensive your policy is, the more likely it is to cover damage resulting from paying guests.
Some insurance companies require advance notice if you plan to have a paying guest in your home, and may require you to purchase special insurance if you intend to rent your home out on an ongoing basis. If you plan to rent your home for a longer period of time, you will probably need a special landlord policy which may add to the cost of your original homeowners insurance policy. Check with your insurer, as guidelines can differ. For more information, visit nolo.com.
Damage to a guest's property is likely not covered by your homeowners insurance policy in the event there's a theft or fire on the property you're renting out, so they will probably have to rely on their own insurance coverage. Make sure any guests are aware of the level of insurance you have and what you are liable for.
With so many options available for hosts and travelers, it's a great time to take advantage of hosting services like Airbnb. But before you do, make sure you're covered. Discuss all of your options with your agent.